Featured player of the month - Vincent De Oliveira
Hello! One thing that makes CSSBattle what it is, is its community - players like you! Today, we are starting a new blog series to honour some of the best players of our community by featuring them here. And to start with this series, we have today with us - Vincent De Oliveira a.k.a iamvdo. Vincent is the current Rank #1 player on CSSBattle! Please join us in welcoming Vincent!
Vincent De Oliveira #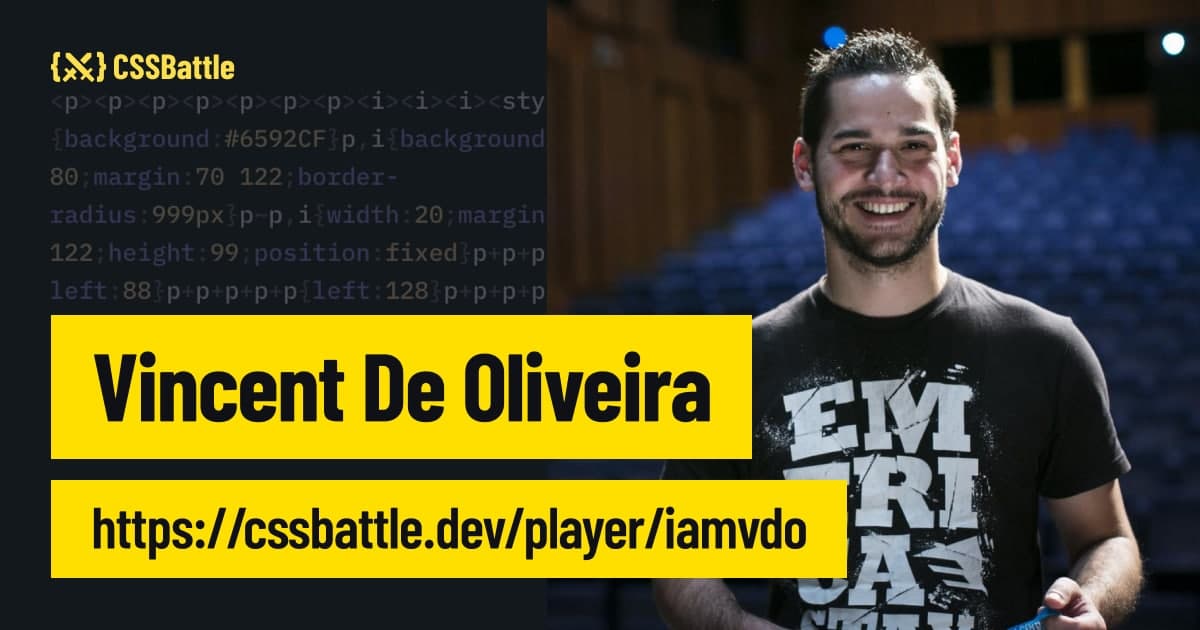 Vincent's picture is by "Paris-Web" licensed CC BY-NC-SA 2.0
Hello Vincent, we are honoured to have you as a part of CSSBattle! 🙇🏼‍♂️ Our readers would like to know more about you. Please tell us a little about yourself.
Hello, thanks for building CSSBattle in the first place! I'm Vincent De De Oliveira, a web developer and instructor, working at the french national mapping agency. I study cartography at school and slowly migrated to web mapping through the years. I'm a passionate developer, specifically all things UI, design and code. Obviously, CSS was the first language I've learnt and used extensively. Building UI and graphical effects, learn people how to build them, just makes me really happy. In 2012, I wrote an entire book about CSS, published here in France.
That's great! And you are welcome 😃 How did you come to know about CSSBattle?
I'm using Twitter everyday to stay up to date with new web features, news, and also to share my findings. When you launched the website, I jumped on it right away and started playing instantly! 😋 It was 2 years ago, time flies.
Yeah, it sure does! What are your thoughts on CSS? What makes it interesting for you?
I love CSS, and I think the main point is that behind its relative simplicity (you can basically grasp CSS in two hours), it's a very complex language, that you really have to learn to understand how it behaves. I discover some specific behaviours years after writing my first line of CSS. And all in a declarative way!
Many people say "CSS is easy or it's not really a programming language". What do you want to say to those people?
To be honest, I don't care much, this debate shouldn't be a thing. If you find it easy, great, come play CSSBattle and try to reach the top leaderboards :) Because, even if you think some targets are "easy" to reproduce, getting to the top is not easy at all. You have to really know how CSS works, and test multiple solutions to find the shortest of all possibles ones.
Well said 😄 Any tip/suggestion for people who are starting to learn CSS?
Have fun! I've learnt CSS that way: trying to achieve specific effect, building new ones, etc. Then, reading/watching tutorials on specific point when needed, and learn even more. Also, writing blog posts and/or giving talks to your local meetups is a great way to improve yourself.
We are sure our readers would find that useful! What's the best part of playing at CSSBattle? Has it helped you in any way?
CSS is only a limited set of properties/values, so when a player have a higher score than yours, you're searching for the good mix in your head to achieve that specific target. Always improving solutions is really fun, and even 2 years after, players are finding better ones. You always learn something new along the way.
What's that one thing you want to see in CSSBattle next?
I'm waiting for the new CSSBattle Learn much! I'm hoping it will help beginners learn CSS in a fun way.
It is absolutely great to have you at CSSBattle, Vincent! We hope to make CSSBattle enjoyable and learning experience for everyone. Thanks for your time!
Hope you had a nice time getting to know Vincent. We'll see you next month with one more amazing CSSBattle player! Do follow us on Twitter to know about our next post and awesome new updates coming to CSSBattle. Until next time, cya!